J W Waterhouse - by Peter Trippi. Hardcover - 252 pages Reprint edition (October 2002), Phaidon Press Inc.; ISBN: 071484232X

In this carefully researched new study, Peter Trippi presents a fresh and absorbing analysis of the artist's seductresses, martyrs and nymphs, and the cultural and historical circumstances in which they were produced. He also utilizes new research to provide an accessible biography of the artist. Themes explored include Waterhouse's passion for Italy, literature and the classical world, the role of the Royal Academy in his life, his stylistic influences and studio practice, and his relations with collectors, dealers, critics and curators.

Neglected throughout much of the twentieth century, Waterhouse has enjoyed a dramatic revival of fortune. Peter Trippi's monograph provides a timely re-evaluation that combines a close reading of Waterhouse's imagery with a candid appraisal of the milieu in which he worked.

Peter Trippi studied at New York University and the Courtauld Institute, London, and is currently Vice Director for Development at the Brooklyn Museum of Art.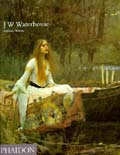 J.W. Waterhouse - by Anthony Hobson. Paperback - 128 pages Reprint edition (March 1993), Phaidon Press Inc.; ISBN: 0714828645



"Hobson makes his admiration of Waterhouse's paintings obvious. This makes the book a very enjoyable read. It is a wonderful introduction to Waterhouse's work. Hobson spends a lot of time discussing paintings--this is something that is too often forgotten in art history texts. He identifies aspects of Waterhouse's compositions that help make his paintings outstanding. He describes the literary sources of Waterhouse's subjects. He mentions the artists who influenced Waterhouse's style. The essays are clear and well-organized. Anyone who is interested in Waterhouse's work should read this book." - Michelle C. Montgomery







Myth and Romance : The Art of J.W. Waterhouse - by J.W. Waterhouse. Paperback - 160 pages (October 1994), Phaidon Press Inc.; ISBN: 0714832642

"To an avid admirer of the art of JW Waterhouse, this little book that could is a grand addition to a collection. The book is small enough to fit in your pocket, purse, or briefcase; perfect to slip out at moments you want to show a friend or coworker an example of that amazing artist.

The most brilliant part of the book is the way that it was made with several close up pictures of small areas of a certain painting, followed by a one or two page reproduction of the painting as a whole. This is a wonderful way for the admirer of Waterhouse's art to notice intricacies of the masterpieces that are not clear to see in Hobson's book. Also, I believe the reproductions in this book are superior to Hobson's. The lines appear crisper and more defined in this version, and the faces seem more expressive because of it.

A definite find, and a grand addition to anyone's collection!! I was not dissapointed in the least by this little book." - Sidhe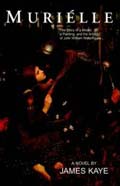 Murielle: The Story of a Model, a Painting, and the Artistry of John William Waterhouse - by James Kaye. Paperback - 260 pages (May 2004), Xlibris Corporation ; ISBN: 1401079431

While much is known of the professional life of John William Waterhouse (1849-1917) little is known of him privately, and less of his model. No diaries, journals, letters, or personal papers of either are known to exist that could reveal much about them. "Muriélle" is, however, based on real characters, places, works of art, and life of the times.

The story is an intimate glimpse into the life of the young model whose charming innocence and demeanor enamored the Romanticist artist John William Waterhouse. Her statuesque beauty with a lovely profile and long hair inspired the artist's romantic painting, "La Belle Dame sans Merci" (front cover, 1893), based in part on the epic poem of the same name by John Keats (1819). "I met a Lady full beautiful, a faery's child. Her hair was long. She took me to her elfin grot and there we slumbered on the moss" (excerpted from the poem).

"Muriélle" is a story of sexual awakening in the 1890s when, despite moral and social inhibitions, art history was "littered with liaisons between artists and models." The "fin-de-siécle" era of Victorian morality was one of fast changing attitudes, life styles, and behavior for young women that had been traditionally unacceptable. Muriélle is a naive young woman who bridged gaps between adolescence and adulthood, but not without trials and tribulations. When coming of age she was forced early on into conflict with her moralistic upbringing, the objections of a pious mother, and the challenges of sitting as a figure model.



The Pre-Raphaelites (Colour Library) - by Andrea Rose. Paperback - 128 pages, Reprint edition (January 1994), Phaidon Press Inc.; ISBN: 0714829072

The Pre-Rafealite era has spawned some of our most popular posters and romantic postcards. However the movement was rich in other work that is not so commonly seen and certainly not the pieces that appear so typically in art history books. This book contains a little of both.

As always, the color in these paintings is exquisite and joyful. The writing is charming and full of interesting anecdotes about the works and their creators. Since many of the works were inspired by works of literature no longer taught in our schools, it helps that there are many explanations for the characters and the details of the scenes that are shown. This book does a far better job in that regard than most art books I have seen. In so doing it takes a "pretty picture" into an even prettier story.

Most pictures appear as the single piece on a page and surrounded with an ample amount of white. I hate to say it, but they would frame very very well.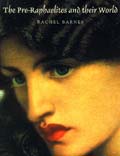 The Pre-Raphaelites and Their World - by Rachel Barnes. Paperback - 112 pages, (November 1998), Tate Gallery Pubn; ISBN: 1854372203



Ms. Barnes's coffee-table book is a superb addition to the general art-lover's library. Lush illustrations and accessible prose make this book the perfect introduction to the men and art of the Pre-Raphaelite Brotherhood.











I think so Brain, but burlap chafes me so. - Pinky


Current Waterhouse Posters Promotion