COULD YOU HAVE BEEN A WATERHOUSE MODEL?
I have received numerious emails in the past several years from visitors who claimed that they could pass for a Waterhouse model. Many sworn, but none had proofs. If you think you are one, send me a message and tell me which painting could you have modeled for. After reviewing, if I agree with you, with your permission, I will post your picture on the site. You will also have an option of adding your bio and personal information on jwwaterhouse.com. Here are the current entries. Click on the name to see pictures and details.


Nora
» Send her an email
Nora O'Driscoll is a citizen of the world (of both Irish and Portuguese descent; 50/50), having possession of both EU and U.S. Citizenship, she currently resides in New York, NY. A Theatre Student and participant in various international theatre festivals (two consecutive years in Croatia, then Greece and Spain) for the purposes of furthering her experience and to set the foundations for a career in Acting and Playwrighting. Also, has done various print ad test shoots to expand her portfolio.


Heidi
» Send her an email
Heidi Schave works as a historian in the San Francisco Bay area. She is passionate about the arts and is an avid art collector.


Claire
» Send her an email
Claire is a painter who lives in Georgia, originally from Reading, England. She, like most painters is an enormous fan of Waterhouse, especially the Greek mythological themes. She thinks she may be a candidate for 'A Mermaid'. What do you think? Let her know, send her an email.

GRACE
» Send her an email
John William Waterhouse is Grace's favorite artist, and has been since she was about 14. Everyone close to Grace knows that if they want to give her the ultimate compliment, tell her she "looks like a Waterhouse painting" and She'll be thrilled! Grace feels she could have modeled for Waterhouse's Lady of Shalott (the famous boat scene), his 1910 Ophelia in blue, or My Sweet Rose.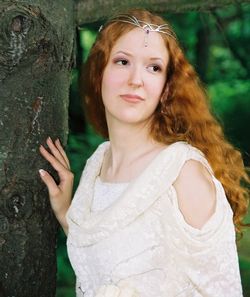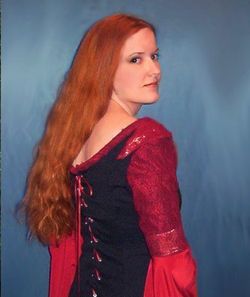 Could have been in?






Sannie
» Send her an email
Sannie is from Holland. She sent me her photos a while back, but I only posted them just now. My apology to Sannie. She actually reminds me of my ex-girlfriend who got me into Waterhouse in the first place. :)


Alison
» Send her an email
Alison loves Waterhouse work and somehow feel drawn to it. She has been told she resembles the paintings but never took it seriously until she saw them herself. She would like to get honest opinions on whether she looks like any of the paintings that Waterhouse painted.


Helen
» Send her an email
Helen has always been interested in the Pre-Raphaelite period and John William Waterhouse is one of her favourites. She also draw/paint portaits as there is nothing more remarkable or beautiful than the human form in her opinion. She would love to learn to sculpt and admire Ron Mueck's work in resin, it's truly awe inspiring though controversial sometimes. Helen lives in England, in Buckinghamshireand have 2 fine young sons, Lloyd 20 and Rob 18 (Rob has always reminded her of the young man in Hylas and the Nymphs).


Sonja
» Visit her web site . » Send her an email


Sonja (Soso) is a huge Watherhouse fan and some years ago her friends claimed independently from each other) that the "Mariana in the south" model just looked like her. Well, Soso thought this needed some testing and thus made a copy of the gown and took some photos. See for yourself the outcome.







Chrystal
» Send her an email
Chrystal is 22, living and going to school for digital photography in Ontario, Canada. The first painting she ever saw of Waterhouse's was Ophelia (1894), which was on a card her grandmother sent to her sister and noted "Doesn't she look like Chrystal?" Chrystal loves Waterhouse paintings - he has this romantic, fantasy type of style, which she try to achieve in her own drawing and photography works.


Corinna
» Send her an email
Sabrina always enjoy coming to jwwaterhouse.com so much because she is a huge Waterhouse fan. Well, and as the paintings have become a part of her life she and her mom decided to make the dress of the painting "Lady Clare" for a medieval wedding she attended in August, 2005.


Sabrina
» Send her an email
Sabrina discovered Waterhouse by chance. She waslooking for Pre-raphaelites information and found a Waterhouse. Although Sabrina wants to very much, she hasn't had a chance to see any of Waterhouse works in person because she's a 24-year-old unemployed student. Still, she felt encouraged to send one of her photos for this section. Perhaps other visitors will find some similarities in her features and Waterhouse paintings.


Laurie
» Send her an email
Laurie's daughter, Angel, has always felt that the girls Waterhouse painting looked just like her mother (influenced, she's sure, by her mom's waist length hair and diminutive size), but it's only her opinion. Angel has almost no pictures of her mom, and the ones she does have are from the 1980's, so they're a little grainy and faded. This, however, adds a wonderful effect to the likeness.

Ragen
» Visit her web site . » Send her an email


For many years, her soul has been captivated by Waterhouse haunting images. As an artist herself, she is simply astonished by his mastery... his simple and delicate way of capturing the divine beauty in the faces of his models... If you are Waterhouse model look-a-likes, PLEASE check out website! she is in desperate need of pre-raphaelite beauties to model for my own paintings, the themes of which are very much inspired by him.








I think so, Brain, but this time, you put the trousers on the chimp. - Pinky


Current Waterhouse Posters Promotion